Information and Business Process Management
Information and Business Process Management consists of integrating business functions and manual activities, using software applications throughout the organization to automate activities and business workflows. Activities usually involve submissions, approvals, other administrative tasks, and reports. These initiatives are meant to increase productivity, efficiency, governance compliances, and service quality. As an additional business outcome decision making effectiveness and efficiency improve.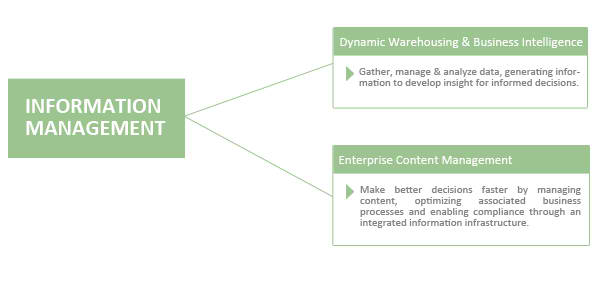 Enterprise Content Management
Allow the corporation to manage the information easier through simplifying storage, security, version control. Process routing retention and deliver content / documents according to the organization process.
It essentially at managing the life cycle of information flow from initial publication or creation all the way through archival eventual disposal
Tools used in ECM include Content Management, Workflow, Corporate Taxonomies, archival system, thus INFO LAB work with world class technologies provide like.
IBM
HP
Microsoft
Adobe
Autodesk
to give the best solution stack to fulfill the customers needs.