TurboZest
Overview
TurboZest is business analytics reporting application built to give  you predictive insights and help you track the financial health of your business. Our aim is to provide our clients with real-time business intelligence, in-depth analysis and accurate data to help make smarter business decisions.
These insights are created when the existing database is integrated to the SAP HANA platform, on which the solution is built.  The data is extracted, analysed and presented as meaningful and insightful reports that help in swift and intelligent business decision making.
The decision-making reports are based on 'patterns' of the business which will help you review, analyse and comprehend complex data. The Predictive Analytics Library (PAL) system of SAP HANA is used to generate reports and analysis which are visualized using the SAP Cloud Analytics and Digital Boardrooms.
TurboZest has been built using three SAP HANA modellers:
– Calculation views
– Analytical vies
– Attribute views
TurboZest also connects swiftly with both SAP and Non-SAP systems thereby minimizing costs and saving time. With this, your business functions will be simplified, streamlined and automated. Simply put, this is a predictive business analytics solution to make complex financing simpler.
Features
Here are the features that make TurboZest unique and ideal for your business: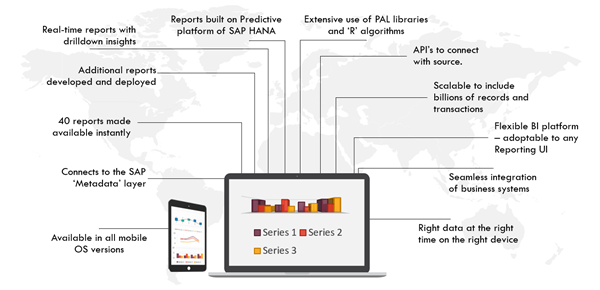 Benefits