Platform as a Service (PaaS)
Platform as a Service (PaaS) is a delivery of a computing platform over the web. PaaS enables you to create web applications quickly, without the cost and complexity of buying and managing the underlying software/hardware.
PaaS provides all the facilities required to support the complete life cycle of building and delivering web applications entirely on the web.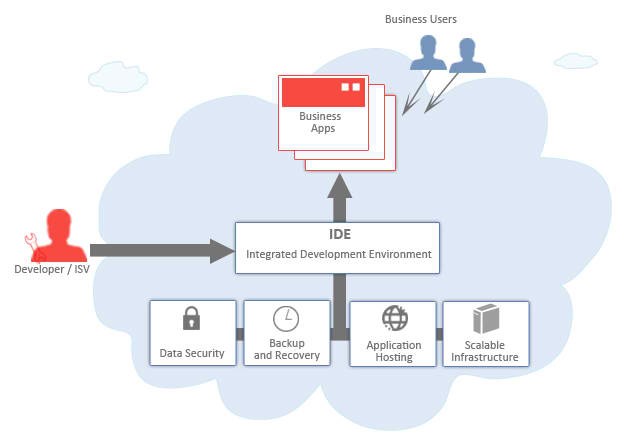 As Platform-as-a-Service (PaaS) is available as a service, the developer and ISV's get full control of the application development and deployment. PaaS enables developers and ISV's to create custom web applications and deliver it quickly, as many of the hassles like setting up hosting, servers, databases, user interaction process and frameworks are prepackaged.
PaaS a concept is known as Platform as a Service and also as Cloud Computing Platform. PaaS applications are referred as On-Demand, Web-based or as Software as a Service (SaaS) Applications.
PaaS Benefits for Business Users
Platform as a Service (PaaS) help business users to minimize operational costs and increase their productivity.
Time to Market
Requires no up-front investments
Minimize operational costs
Centralized information management
Enhanced productivity
Access to information anywhere, anytime
Easy collaboration
Secured and customized access
PaaS Benefits for Developers and ISVs
Platform as a Service (PaaS) enables developers to focus only on innovation that provide real business value instead of infrastructure set-up.
Zero Infrastructure
Lower Risk
Lower cost and improved profitability
Easy and quick development
Monetize quickly
Reusable code and business logics
Integration with other web services