Mobile App White Label Solution
Overview
In an economy driven by consumer behaviour and data, B2C businesses particularly Retail and F&B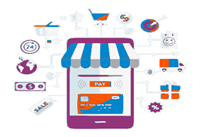 need to innovate their products and services to keep up with the market. Creating a mobile app is one such method that allows businesses to stay relevant in a competitive market while also enhancing customer engagement, creating new opportunities for business and building on the existing brand image.
Our white label solution can be customized to align with your brand identity as well as meet your business requirements. We can help you create a full-service mobile application that will function as a marketplace for all your brick and mortar outlets, providing customers with a choice from a wide range of products and services on a single platform.
With a tailor-made mobile app for your business, you can:
Personalize the look and feel of the app to reflect your brands' identity
Develop your own 'Rewards and Loyalty Programme' to keep your customers coming back for more
Collect and own valuable customer data, and analyse their buying behaviour to improve customer engagement on the app
Enhance customer service and experience by offering them with customized services, based on the data collected
Features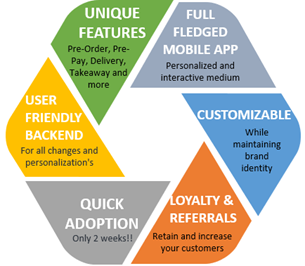 For Retail: Pre Order, Pre-Pay, Delivery and Takeaway
For FnB: Pre-Book, Pre-Order, Pre-Pay, Delivery and Takeaway
Benefits
A branding channel: A tailor-made mobile app allows you to interact with your customers in a different way than what they would do over a website. The app, being fully customized, will continue to reflect your brand value and ideals while showing your commitment to providing better service to your customers.
Customer engagement: An app will provide your customers with 24/7 customer support and interaction with your brand like never before. It will boost your reach with customers by allowing you to personalize your service and communication to each of them via the app. It makes your business available to customers at their convenience. Regular interaction with your customers will help you foster trust and a better relationship.
Drive overall sales: A mobile app will always remain within an arm's reach of your customer, making it their go-to choice for any purchase. Mobile apps are also interactive, quicker and simpler to navigate, making browsing of products and services instant, thereby boosting sales.
A referral and loyalty programme: A 'Referral and Loyalty' programme that is exclusive to your business, is a sure shot way of bringing your customers back for another purchase. Not only does this boost overall sales, it also gives you the opportunity to tap into potential customers and get them on-board. Rewards, discounts, promotions on the app will help you develop and maintain a connection with your customers, encouraging them to repeat their purchases.
Collect and own customer data: Bringing customers on-board your app will help you collect customer information such as user details, likes, dislikes, location preferences and more, all of which provide an insight into buying behaviour. The data collected is valuable information that is exclusively owned by your business, allowing you to reach out to these customers with bespoke marketing and messaging.
Gain competitive edge: Stay ahead in the market by adapting to the digital world and reaching out to customers on a medium they now prefer. Mobile apps are convenient because they are fast, easy, and simple to operate, which can further drive customer engagement and boost sales.
Get onboard the omnichannel wagon: With the advancement is technology, businesses need to target customers through multiple platforms to be able to break through the clutter and stand out in the market. Mobile ownership and usage has made smartphones one such touchpoint where businesses can offer personalized and seamless experience to customers. Exploring omnichannel marketing strategies is a good way to provide customers with a better engagement and experience.
A cashless experience: A shopping experience is made smooth by various factors, one of which is the ease of doing financial transactions. Cashless payment on e-commerce sites is what has made this shopping experience more convenient for customers. The ability to provide the same features and functionalities of e-commerce sites on a mobile application is what makes this an appealing marketing strategy to explore.